The SGTO runs campaigns on issues that are of concerns to residents. We have a campaign officer to support this work. All the work we do is to improve housing and the lives of local tenants and residents. Through raising awareness of the issues facing residents, SGTO can connect people and bring about change. We provide regular campaign updates and policy change information to our members. We give members the information they need to have a voice and the opportunity to feed into consultations and shape our responses. The worth of SGTO as a borough-wide group is that it can demonstrate the issues affecting the whole of the borough, link people up, and share experience.
Our most recent challenge has been Southwark Council's Resident Involvement Review, which has led to a year-long campaign and has seen us hold public meetings, protests, circulate open letters and motions as the council attempts to change democratic structures which could impact on existing tenant voice structures. We have successfully campaigned to have tenant and resident halls removed from the review, engaged the tenant movement, and significantly delayed adoption of any plans. Over the years we have been compelled to campaign on many major issues. From racism and other forms of discrimination on estates to getting more females involved in the tenant movement. Right to Buy and Bedroom Tax are some of the more recent things we have fiercely campaigned on alongside the council. However, sometimes our work means we campaign against what the council intends to do as our membership sees fit. The SGTO is constantly campaigning for housing rights and has a presence at forums, networks, public meetings, protests, social media, City Hall, Parliament, and many other routes of activism. Participation in forum meetings we can raise issues that are impacting on our membership and campaign collectively. We can provide a collective voice of tenants and residents in Southwark to bring about change.
E.g., in 2017 Southwark Council tried to make our repair line a paid for service. This would have hit poorer residents the hardest, we were able to gather signatures and campaign to keep the line free. This led to Southwark Council dropping plans to make the repair line a paid for service.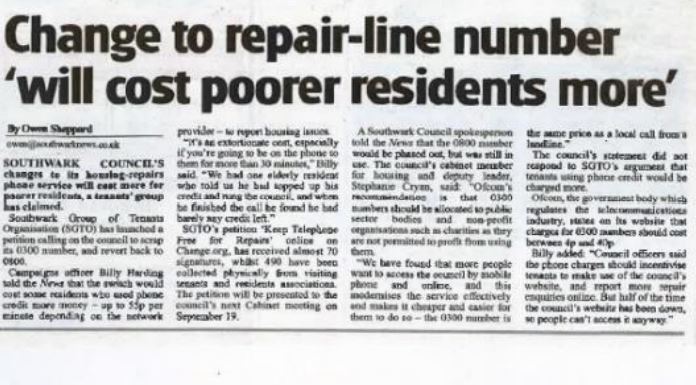 ➢ By working with tenants and residents, we can tackle issues. For example, in February 2020 a tenant attending our monthly group meeting, raised serious issues over their heating and hot water as they
have not had a consistent district heating service since 2016. The following day the landlord provided a follow up for the first time and work started on the pipework to fix the problem.
➢ We have supported a leaseholder who was taking legal action against his landlord for charging for a service that had not worked since 2016 by accompanying them to meetings, taking notes, ensuring the leaseholder received appropriate legal advice and creating a logbook so people on the estate can log outages. This can be used in any legal case, as a campaign tool and as a tool for people to record who they spoke to and when. This approach can now be replicated across other estates experiencing outages.
➢ We have led a campaign to urge that the Local Authority present a fair compensation policy, which has led to meetings with senior staff department leads while we negotiated when this will be implemented.
➢ This includes our work with Southwark Planning Network in which we co-deliver workshops across the borough to engage local people with the mass planning taking place in Southwark and more recently the New Southwark Plan to ensure they are informed and have a voice.
➢ Working with other national campaign groups we can achieve bigger things and we regularly submit evidence to select committees, London Assembly and investigations. 26
➢ National campaigns to eradicate poverty, we have contributed and helped shape their campaigns on Universal Credit and the impact of Welfare Reform.
➢ Our work with Fuel Poverty Action where we gave evidence in parliament which saw central government release further funds for cladding removal to local authorities.
➢ We have also been part of the group to highlight selling off social housing and public buildings at £1 and report on the impact of Universal Credit.
➢ We have been working closely with Tower Block UK in their launch of their Fire Safety Survey and hope to be a key partner in making tower blocks safer.
➢ Disrepair- due to the age of many Southwark properties disrepair is a big issue for tenants. Disrepair can be damp, ill-fitting windows/door frames, mould, cracks, broken heating systems and other issues affecting the quality of your home.